Gentle, hypoallergenic, deep cleansing
Functional cleanser that relieves acne-prone skin
0.5% salicylic acid for troubled skin
Rich foam, low irritation, and deep cleansing

Acne skin produces excessive amount of sebum and is vulnerable to exposure to various waste materials. That is why deep cleaning is essential to prevent troubled skin. Red Foam Cleanser provides a 3 step thorough, deep cleansing care to help relieve acne-prone skin.

Minimize irritation by cleansing clearly. Experience rich and moist foam for deep cleansing and cleanse even the toughest makeup thoroughly without worrying about irritation or skin dryness


Key Ingredients
0.5% salicylic acid
Remove waste generated by large pores, dissolves sebum accumulated in pores, and keeps out dead skin cells
Sophora extract
Calms skin that is irritated due to skin germs or various stresses
Full Ingredient
How to use
1. Squeeze appropriate amount of cleanser on palm
2. Form lather by rubbing and mixing with water
3. Apply and massage gently on the face
4. Rinse off with warm water
Red Foam Cleanser 120ml Water/Aqua/Eau, Glycerin, Palmitic Acid, Stearic Acid, Lauric Acid, Myristic Acid, Potassium Hydroxide, Glyceryl Stearate SE, Cocamide DEA, Propylene Glycol, Cera Alba/Beeswax/Cire d'abille, Cocamidopropyl Betaine, Glycol Distearate, PEG-60 Hydrogenated Castor Oil, Salicylic Acid, Phenoxyethanol, Sodium Chloride, Chlorphenesin, Tocopheryl Acetate, Alcohol, Disodium EDTA, BHT, Sophora Angustifolia Root Extract
Customer Reviews
Write a Review
Ask a Question
07/01/2020
Hillary W.
United States
06/30/2020
Ashley R.
United States
06/27/2020
Joyce N.
United States
Red Foam Cleanser
I like how it makes my skin soft and feel so clean. It dries out my acne in about 3 days.
06/11/2020
Lena C.
United States
I'm love
I love how it makes me feel after using the red deep cleaning set. So clean and refreshing
06/02/2020
aiva F.
United States
I'm so in love
I am so in love with this cleanser. I have oily sensitive skin and break out look like acne before. But now I noticed my skin is gentle this Medicube cleanser is amazing.
04/22/2020
BeiLi C.
United States
Calming!
Doesn't irritate my skin, gentle and calming.
04/21/2020
Ashley R.
United States
Love it!!!!!
Amazing my face feels like I get a deep clean and all the dirt and make of the comes right off.
04/19/2020
Anna
United States
Would recommend!
I've long struggled with acne and bad skin in general. This lead me to try a lot of products from well known brands like proactive and neutrogena but they were either only effective for a short period of time and stopped working after my skin got used to it or was just too weak to actually combat my acne problems. Proactive was super strong - and that was okay because my skin is strong - to the point that my green towel would be bleached to a white color just when I'd wipe my face after every face wash but like it said it stopped working. This product on the other hand is gentle on the skin while helping to solve the problem so I really like it. I've been using it for about 2 months now and I can see that my skin has improved and it also helped make my skin less oily. For people struggling with acne looking for a good cleanser, I would definitely recommend you to try this. It lasts a long time and worked a lot better than other products out there (at least on the American market).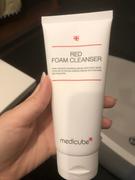 04/09/2020
Lynn L.
United States
Red Foam Cleanser
Makes my skin feel clean without it feeling stripped and dry. Only need to use a very small amount.
04/02/2020
Bopharandeth C.
United States
Foam Cleanser
I noticed a big difference in using it after 3 days. I mainly use it as apart of my nighttime skincare routine. It gets rid of my current blemishes.
02/29/2020
Ashley R.
United States
Love it!!!!!
Face feels like I have a deep clean and all of the dirt and make up from the day are completely wash out. Leaves my face dealing clean and smooth.
02/19/2020
Trinh N.
United States
Love it
My skin is very dry. Now i love it
01/31/2020
Soka
United States
A Life Saver!!
I absolutely love this product. I have thought of buying this product in the past because my acne was so bad but didn't have any money and was lazy to do a routine. My acne was so bad I was not at all confident. But then I bought this product about a month ago. I'm in love. This product is super gentle on the skin, doesn't irritate or burn the skin. This really helped with my acne so much. It saved my life, confidence and gets rid of acnes over night when you use the zero pore pads.
01/30/2020
Grace P.
United States
01/25/2020
Ashley R.
United States
Love it!!!!!
Love how it gives me a deep clean and foams for extra cleaning.