Glass Glow Toner (Essence) 2.0
The all new, upgraded Glass Glow Essence (Toner)
Triple the collagen, triple the glow
Fortified by 1000x collagen to revitalize and moisturize skin
Get the perfect skin that glows from the inside with Glass Glow Essence (Toner)

Still experiencing cakey makeup and loose skin even after applying essence and mask sheets every day? This is because skin is only moisturized on the surface! Say goodbye to superficial moisture!

Contains Triple Collagen Complex absorbs into skin for deep hydration from within (collagen, elastin, hyaluronic acid). Collagen maintains skin structure. It makes up about 70-80% of the human dermis and is what keeps skin plump and supple. Supply skin with collagen to maintain long lasting skin suppleness and glow. Glass Glow Essence (Toner) contains hydrolyzed collagen, atelo collagen, soluble collagen that hydrates skin from the inside out, leaving skin smooth and soft for the perfect close up!
Key Ingredients
Hydrolyzed collagen
Helps with skin conditioning and boasts superior moisturizing properties
Atelo collagen
Acts as a hydrating agent by holding in moisture to improve skin elasticity
Soluble collagen
Pure collagen molecules that deeply penetrate skin to plump and firm skin
Full Ingredient
How to use
1. Apply appropriate amount of Glass Glow Essence (Toner) 2.0 across entire face after cleansing
2. Tap gently to enhance absorption

TIPS!
Mix with cosmetic products and apply on dry skin to prevent cakey makeup and get that natural, glowy look
Glass Glow Essence 2.0 Water, Glycerin, Butylene Glycol, 1,2-Hexanediol, Niacinamide, Dipropylene Glycol, Hydrolyzed Collagen, Soluble Collagen, Atelocollagen, Propanediol, Trehalose, Ammonium Acryloyldimethyltaurate/VP Copolymer, Glycereth-25 PCA Isostearate, Adenosine, Hydroxyethylcellulose, Hyaluronic Acid, Hydrolyzed Hyaluronic Acid, Hyaluronan Sodium, Disodium Ethylenediaminetetraacetic acid, Ethylhexylglycerin, Fragrance
What's unique?

Gives skin suppleness and elasticity
Collagen particles deeply penetrate and rejuvenate tired skin

1000x fortified Triple Collagen
The 3 main Collagen penetrates faster and deeper into skin barrier, hydrating skin from the inside out

Fast absorption essence
Superior moisturizing properties lock moisture in dry skin to ensure skin is plump all day long



FAQ

I have acne prone oily skin, so can I use this product?
For acne-prone skin, kindly check out other products or sets that is formulated for sebum, oil and moisture balance. As this product has a higher level of oil and moisture, it may not be the best match for those with oily or acne prone skin. However, please note that individual results may vary depending on each skin types.

Customer Reviews
Write a Review
Ask a Question
09/07/2020
Christine
United States
I recommend this product
Amazing
Its amazing how it works out well in my skin. So smooth. I use it everyday
08/19/2020
Nicholas D.
United States
I recommend this product
High Quality
It's been excellent and I just keep buying!
08/19/2020
Malou A.
United States
I recommend this product
i like it
very good and affordable and make my skin soft and fresh.
08/03/2020
April
United States
07/15/2020
Kip C.
United States
07/07/2020
Hannah B.
United States
06/30/2020
Mareeya B.
United States
06/12/2020
HARRIET C.
United States
I recommend this product
Collagen Glow Toner
Great! Skin tone and elasticity.
05/06/2020
Tina G.
United States
I recommend this product
Triple Collagen is what my skin needed!
After washing my skin I put on enough to cover my face with the Triple Collagen Toner. It has a nice silky feel not completely watery. And a delicate soft floral scent( light noway over powering) Pat it alittle like directed. It absorbs quickly no sticky or greasy feel. .I really love the way the Triple Collagen Toner moisturizes my face. Its becoming soft, plumped & glowing with consistent use. I like using it in the evening after washing my face but also in the morning its really refreshing and wakes my face up. I let it completely dry before going on with the rest of my make-up which looks nicer not cakey or dry. Or days I want a fresh clean no makeup day it gives me a fresh glowing dewy look. Its giving me back elasticity. I like to keep the toner in my fridge-makes it really refreshing. I want to get the serum to go with the toner. I have alot of products, I also want to get the zero pads. I'm a BIG fan of Medicube their products are so good & healthy for my skin. I tell everyone "You Gotta Try Medicube" ☺
04/03/2020
Diemy N.
United States
I recommend this product
Love it!
So far is feels great on my skin. I've used other essences in the past and this one is the best out of all .. it feels thicker more like moisturizer essence which i love more than another water essence.
03/05/2020
Shegrid M.
United States
I recommend this product
Waiting for the best result
I don't see result yet since I just received the product 2 days ago. Hoping for the best results to my skin. Thanks
DH
02/18/2020
Diana H.
United States
02/04/2020
Jeremy A.
South Korea
I recommend this product
Got the RENEWAL VERSION!
I have a dry skin and I've heard that Glass Glow Essence can solve this concern. And I bought shortly the Glass Glow Essence 2.0 and I love it soooo! Only the essence toner can make my skin much hydrated and not sticky! It fills the moisture from deep inside of my skin and I'm really satisfied. I will buy the serum as well for deeper moisturizing at night! LOVE IT!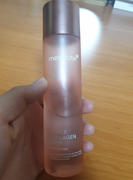 02/04/2020
Haley
South Korea
I recommend this product
Best Essence I've ever used!
I got recommendation of Medicube and just try this 2.0 essence, it makes amazing results! My skin is getting bright and glowy after I use it both morning & night routine. And it's so gentle that I can collaborate with any other moisturizers. LOVE IT SO MUCH AND HIGH RECOMMENDATION!!