Main Ingredients
White Willow Bark
Salicylic acid helps to unclog pores
Grape, Key Lime, Lemon, Apple, Orange
Naturally slough off dead skin cells, rough patches, and debris
Camellia extract
Lotus extract from Jeju Island with tannin to cleanse pores and control excessive sebum
Skincare Step
1. Cleanse face with Zero Foam Cleanser and pat dry.
2. Use the embossed side of Zero Pore Pads to exfoliate, then turn around to the silky side to refine and tone.
3. Apply appropriate amount of Zero Pore Serum on your face.
4. Apply appropriate amount of Zero Pore Cream on your face and pat gently to enhance absorption.

FAQ

Zero Pore Pad



How do I use it?

Zero Pore Pads are products that has completed a clinical test on the pore tightening effect and you can use it at the toner stage after washing your face in the morning and evening.



Can I put it in the refrigerator and use it?

You may store it in the refrigerator to make a cooling pack.
We normally recommend storing the product at room temperature, avoiding high temperature, and direct sunlight.
Please keep the lid closed tightly to prevent product from evaporating.

Can you do dual-care for exfoliation and pore care with the pads?

Unlike other pad products, Zero Pore Pad products are dual-care products for pore care and exfoliation.
Salicylic acid ingredient helps exfoliate and Anti Sebum P can help pore tightening.


It contains AHA, BHA ingredients together. Is it safe?

Zero Pore Pad's AHA is 0.01% and BHA is 0.45%, and it is made according to the proper mixing limit, so it is safe to use.


Zero Foam Cleanser



Is it for makeup removal?

The Zero Foam Cleanser removes external wastes that blocks pores. It's natural-derived ingredients help with deep cleansing without irritation, and the pore care ingredients help minimize the pores. However, for a heavy makeup, please use the lip & eye remover first before removing your makeup with the Zero Foam Cleanser.

What is the difference between Red Foam Cleanser and Zero Foam Cleanser?

For daily pore care, we recommend the Zero Foam Cleanser and for excess sebum concerns, we recommend the Red Foam Cleanser. However, please note that individual results may vary depending on each skin types.


Zero Pore Serum



Can I use the Serum alone for pore tightening?

Zero Pore Serum has completed clinical trials on pore tightening effects. However, the effects are based on the type of each skin and the interdependence of the ingredients.
Customer Reviews
Write a Review
Ask a Question
07/25/2020
Sandy L.
United States
I recommend this product
Refining result
I didn't write a review until I finished using the products, at least the pore pads, so I can compare before and after after using it consistently AM and PM. I noticed my pores did not disappear but got blurred out and very smooth skin. I do not need a filter anymore unless close up shot then will see pores. (Blue shirt before, yellow shirt after)
07/21/2020
Chloe T.
United States
I recommend this product
Love it
I love the product, it help me skin brighter and cleaner.
07/20/2020
Chaovarat D.
United States
I recommend this product
So glad I bought it
My skin look so much different it feels great, doesn't have me breaking out and helps with my pores! I absolutely love this product I use it after I use the zero pore pads. Honestly I've noticed such a HUGE difference in my pores. They're smaller than what they used to be. I'm highly impressed by medicube in general, I honestly recommend any one using any of their amazing products. It changed my skin and for the better.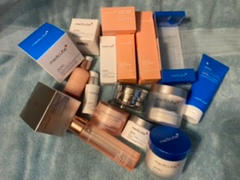 07/15/2020
THIA C.
United States
I recommend this product
Amazing Duo zero
I love how the zero pore pads also works as a Makeup remover while cleaning your Pores. It leaves my face so clean & it's gentle as my skin is quite sensitive.
07/14/2020
Mayly V.
United States
Love it!
It felt amazing! My pores feels tighten and my skin just felt a lot better!
07/12/2020
Sarah B.
United States
Great product
I've used 3 months worth of Medicube Zero Pore Pads and can tell a difference in the size of my pores. I also produce less oil too! My acne has gotten better aside from my chin area but I think that's because of wearing masks. I just purchased 3 more months worth and now have my sisters using it too!
07/08/2020
Kayleeny
United States
IT WORKS!
I have tried numerous products to help minimize pores. None have really worked except this. Within 3 days, I already noticed them getting smaller! I know everyone's skin is different but I highly recommend this!
07/05/2020
Phoua V.
United States
Working good so far!
My skin feels softer and prettier!
07/01/2020
Jenn K.
United States
06/14/2020
Angelique M.
United States
It's alright
At first I can feel the product is okay like it's cleaning my face and moisturized it. But eventually I'm starting to have breakouts. I didn't have those when I haven't used the product before. I'm thinking maybe my face is trying to adjust? I'm not sure but I'm going to give it a try again but this time I'll do it with the cleanser.
06/13/2020
Oscar
United States
Love it!
Pores are no longer a big deal when we have this duo. I'm so gonna keep using this!!!
06/13/2020
Ivy
United States
Perfect duo!
The products are effective for my skin and I truly fall in love with them!
06/12/2020
Tilly
United States
Love it!
To treat my pores, I've tried various products before but they all make my skin irritated. This duo is different, the cream is so soft and it comforts my skin a lot. I'm so glad!
06/12/2020
Tilly
United States
So pore-fessional!
I love how comfortable this feels on my skin! I can see a significant reduction in pores and I'm happy with this result!
06/12/2020
Ivy
United States
Couldn't be better!
I tried this duo a while ago and the results were much greater than my expectations. I highly recommend this perfect duo!
Language
English
English