Simple & Effective!
Best skin care routine for men
No more skin blues with Aqua Pore set!

Suitable for all skin types
Recommended for dry skin

With Zero Pore Cleanser that deeply cleanses microdust, to our best selling, dual textured, Zero Pore Pads and the ultra moisturizing Blue Erasing Cream (Rich), this is a simple 3-step routine for anyone looking for clear and hydrated skin all day long!

Weight :
Zero Pore Pads - 70 pads, Zero Foam Cleanser - 120g, Blue Erasing Cream - 50g / Blue Erasing Cream Rich - 50g



Main Ingredients
White Willow Bark
Salicylic acid unclogs pores
Hyaluronic acid
Hydrates skin
Wintergreen leaf extract
Removes dry skin with low irritation
Full Ingredient
Skincare Step
1. Cleanse face with Zero Foam Cleanser and pat dry.
2. Use the embossed side of Zero Pore Pads to exfoliate, then turn around to the silky side to refine and tone.
3. Apply appropriate amount of Blue Erasing Cream (Rich).

Zero Foam Cleanser Water, Glycerin, Myristic Acid, Sorbitol, Palmitic Acid, Potassium Hydroxide, Stearic Acid, Lauric Acid, Cetearyl Olivate, Potassium Cocoyl Glycinate, Parfum(Fragrance), Sodium Cocoyl Isethionate, Sorbitan Olivate, Potassium Cocoate, Coconut Acid, Butylene Glycol, Sodium Isethionate, Sodium Polyacrylate, Portulaca Oleracea Extract, Gaultheria Procumbens (Wintergreen) Leaf Extract, Dinatrium Ethylendiaminetetracetic acid, Camellia Japonica Flower Extract, Propanediol, Diisopropyl Adipate, Lecithin, 1,2-Hexanediol, Saponaria Officinalis Leaf Extract, Acrylic Acid/Acrylamidomethyl Propane Sulfonic Acid Copolymer, Dimethylmethoxy Chromanol, Glyceryl Caprylate, Citric Acid, Potassium Sorbate, Sodium Benzoate, Xanthan Gum, Chaenomeles Sinensis Fruit Extract, Citrus Aurantium Dulcis (Orange) Flower Extract, Melissa Officinalis Extract Blue Erasing Cream WATER, GLYCERIN, ETHYLHEXYL PALMITATE, CAPRYLIC/CAPRIC TRIGLYCERIDE, 1,2-HEXANEDIOL, NIACINAMIDE, HYDROXYETHYL ACRYLATE/SODIUM ACRYLOYLDIMETHYL TAURATE COPOLYMER, POLYGLYCERYL-10 STEARATE, ALGAE EXTRACT, ECLIPTA PROSTRATA LEAF EXTRACT, SACCHAROMYCES FERMENT FILTRATE, PENTAERYTHRITYL DISTEARATE, CITRUS AURANTIUM BERGAMIA (BERGAMOT) FRUIT OIL, ETHYLHEXYLGLYCERIN, CENTELLA ASIATICA EXTRACT, FICUS CARICA (FIG) FRUIT EXTRACT, UNDARIA PINNATIFIDA EXTRACT, CARBOMER, FRUCTOOLIGOSACCHARIDES, TOMETAMINE, HYDROGENATED LECITHIN, DINATRIUM ETHYLENDIAMINETETRACETIC ACID, BETA-GLUCAN, SORBITAN STEARATE, SODIUM STEAROYL GLUTAMATE, BUTYLENE GLYCOL, HYDROLYZED HYALURONIC ACID, RAFFINOSE, FOLIC ACID, CERAMIDE NP, HYALURON NATRIUM, CHOLESTEROL, HYDROXYPROPYLTRIMONIUM HYALURONATE, PANTHENOL, PALMITOYL PENTAPEPTIDE-4 Blue Erasing Cream RICH WATER (AQUA), OLEA EUROPAEA (OLIVE) FRUIT OIL, GLYCERIN, PROPANEDIOL, SQUALANE, VEGETABLE OIL, HYDROGENATED LECITHIN, BETAINE, ACRYLATES/C10-30 ALKYL ACRYLATE CROSSPOLYMER, HYDROXYETHYLCELLULOSE, SODIUM CARBOMER, CAPRYLYL GLYCOL, SODIUM STEAROYL GLUTAMATE, TOMETAMINE, XANTHAN GUM, PANTHENOL, CITRUS AURANTIUM BERGAMIA (BERGAMOT) FRUIT OIL, CITRIC ACID, ETHYLHEXYLGLYCERIN, HYDROXYETHYL UREA, LIMONENE, BUTYLPHENYL METHYLPROPIONAL, ALLANTOIN, 1,2-HEXANEDIOL, CENTELLA ASIATICA EXTRACT, ACETYL GLUCOSAMINE, SODIUM HYALURONATE, PSEUDANABAENA GALEATA EXTRACT, HYDROLYZED HYALURONIC ACID, HYDROLYZED HYALURON NATRIUM, HYDROXYPROPYLTRIMONIUM HYALURON
FAQ

Zero Foam Cleanser



Is it for makeup removal?

The Zero Foam Cleanser removes external wastes that blocks pores. Its natural-derived ingredients help with deep cleansing without irritation, and the pore care ingredients help minimize the pores.

What is the difference between Red Foam Cleanser and Zero Foam Cleanser?

For daily pore care, we recommend the Zero Foam Cleanser and for excess sebum concerns, we recommend the Red Foam Cleanser.


Zero Pore Pads


Can I put it in the refrigerator and use it?

Store in in the refrigerator to make cooling pads.
Normally, we recommend storing the product at room temperature, avoiding high temperature, and direct sunlight.
Please keep the lid closed tightly to prevent product from evaporating.

Can you do dual-care for exfoliation and pore care with the pads?

Unlike other pad products, Zero Pore Pad products are dual-care products for pore care and exfoliation.
Salicylic acid ingredient helps exfoliate and Anti Sebum P can help pore tightening.


This product contain AHA, BHA ingredients together. Is it safe?

Zero Pore Pad's AHA is 0.01% and BHA is 0.45%, and it is made according to the proper mixing limit, so it is safe to use.


Blue Erasing Cream



What is the difference between Blue Erasing Cream and Blue Erasing Cream Rich?

Rich is more moisturizing.

Can I use the Blue Erasing Cream and the Blue Erasing Cream Rich together?

It can be used together or separately.



Can I use the Red Erasing Cream after using Blue Erasing Cream (or Blue Erasing Cream Rich)?

You can use the above products together by using Blue Erasing Cream first, then Red Erasing Cream.
Customer Reviews
Write a Review
Ask a Question
09/10/2020
Vanessa S.
United States
I recommend this product
Only Medicube touches my skin!
I am obsessed with Medicube products. I have two of the lines now, the Blue line and the Glow line. Both are amazing!!
07/23/2020
Charissa P.
United States
I recommend this product
Refresh
I love what I am seeing right now. I just started using medicube after months of contemplating if I should try it. When I saw the changes from week 1 I know I did the right thing for my face. It looked refreshed even without make up. At first I've got pimples when I started using it , it does it everytime I tried new skincare usually small pimples but when I tried this they're big. Thankfully, my fave got accustomed to it and I'm loving it.
07/04/2020
Jodie M.
United States
Love this! The set is really good. Makes my pores smaller and skin softer.
06/13/2020
Jennifer T.
United States
Very fast shipping
Refreshing experience. I'll continue to buy from them.
06/12/2020
Chelle Z.
South Korea
So moisturizing
I like this one because it hydrates your skin without causing abrupt breakouts.
06/12/2020
Deena S.
South Korea
Like it!
The delivery was super fast and really like the customer service too. I got this set because the Collagen Filler set was a bit much for me and this set is just perfect for me. Very rejuvenating and hydrating. Would recommend to those with combination or dry skin.
06/12/2020
Paul K.
South Korea
Good hydration set
I got this from my gf and it was my first time using Medicube. My skin is dry and I have big pores and I think this improved my skin in general. I hope my gf buys me another set after im done using lol
06/12/2020
Reigner
South Korea
Super dry skin
I have super dry skin and this set is so good for me. Use for a month or so and I like how my skin feels so soft and smooth now. >3
06/12/2020
Luna E.
South Korea
Awesome
The blue erasing cream is like the best moisturizer I've used so far. Used to have flaky, dry skin but the pads and the cream worked like a good team to hydrate my skin. Will give it more than 5 stars if I could!
06/12/2020
Alice
South Korea
So clean
My face looks super squeaky clean after using the foam wash. I also like the pads because its like an all in one toner. Smells good too!
06/02/2020
Soo L.
United States
3 product Blue line
Right away I loved the cleanser and could feel a difference in my first use. I am consistently using all 3 products in order to see true results of the 2.0 Pore pads. I feel like in just a few days I see a bit of shrinkage. I really like the Erasing cream (rich) as well. The consistency is very nice and you only need a small amount for the whole face. I tend to be on the drier side (and I live in SoCal) with little oil on nose and chin.
Good
I really like the foam cleanser and the pore pads but the blue cream was disappointing. I have super dry skin atm and I had some high hopes that it would help me. The cream is too light and it didnt feel like my skin was getting moisture. I guess it would be better for someone with normal skin.
05/26/2020
CP
United States
Triple Blue Line SET
Fast delivery! I purchased the Collagen Filler SET 2.0 last time and I love all the products. Running out of the pore pads and so I order more this time along with the Triple Blue Line SET. The blue erasing cream is lighter in texture than the triple deep erasing cream, which is better for summer time.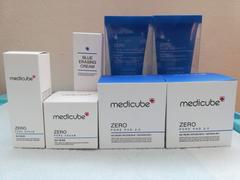 04/28/2020
Pamela S.
United States
Love it
Saw a big difference on my face for using it less than 2 weeks
04/28/2020
Alondra R.
United States
Smooth Skin
The product really minimized my pores by alot and aren't as noticable as they were back then.
Language
English
English