Go beyond moisturization with Medicube Blue Erasing Cream Rich. Formulated with hyaluronic acid that heals skin and strengthens weak skin barrier. Also contains microalgae which is a vital component extracted from hot spring algae that reinforces skin barrier.

Formulated with 5 hyaluronic acid that creates strong skin barrier to prevent moisture loss. Hyaluronic acid is a polymer composed of ultra-low, middle, and high molecular weights. It penetrates the gap between the skin barrier to moisturize both the suface and the deeper layers of the skin.

Key Ingredients
Microalgae
5 hyaluronic acid
Hydrovance
Full Ingredient
How to use
1. After cleansing, apply appropriate amount on the face
2. Gently massage the cream in circular motion evenly across the skin
3. Lightly tap for better absorption
4. Apply remaining cream on neck area

WATER (AQUA), OLEA EUROPAEA (OLIVE) FRUIT OIL, GLYCERIN, PROPANEDIOL, SQUALANE, VEGETABLE OIL, HYDROGENATED LECITHIN, BETAINE, ACRYLATES/C10-30 ALKYL ACRYLATE CROSSPOLYMER, HYDROXYETHYLCELLULOSE, SODIUM CARBOMER, CAPRYLYL GLYCOL, SODIUM STEAROYL GLUTAMATE, TROMETAMINE, XANTHAN GUM, PANTHENOL, CITRUS AURANTIUM BERGAMIA (BERGAMOT) FRUIT OIL, CITRIC ACID, ETHYLHEXYLGLYCERIN, HYDROXYETHYL UREA, LIMONENE, BUTYLPHENYL METHYLPROPIONAL, ALLANTOIN, 1,2-HEXANEDIOL, CENTELLA ASIATICA EXTRACT, ACETYL GLUCOSAMINE, HYALURONAN SODIUM, PSEUDANABAENA GALEATA EXTRACT, HYDROLYZED HYALURONIC ACID, HYDROLYZED HYALURONAN SODIUM, HYDROXYPROPYLTRIMONIUM HYALURONATE
What's in it?

- Microalgae
- 5 hyaluronic acid
- Panthenol
- Allantoin
- Centella asiatica extract
- Hydrovance
Customer Reviews
Write a Review
Ask a Question
08/09/2020
Minnie
United States
I recommend this product
:)
I really love the product. You guys should make a bigger size of it. The size of the bottle is kind of small especially for the price.
I recommend this product
Lasting Hydration without the stickiness
I received this as a sample to test.You don't always know.how a product will work out.I was quite surprised and pleased.My skin was left with long lasting moisturized skin with a soft feeling with no stickiness you get from some moisturizers that say long lasting.My skin actually looked brighter noticeably after several days.I would recommend this.
03/17/2020
Annie
United States
I recommend this product
Very Hydrating
Before trying this product, I have gone through many creams but none of them was hydrating enough to use as a day cream. Most of the creams was too light or not hydrating enough and I have to constantly reapply it throughout the day. This blue erasing cream is definitely my favorite day cream. As the last step of my day time skincare routine, I squeezed out about a pea size of the product and applied it onto my face. This cream helped my face stay hydrated until I start my night time skincare routine.
11/25/2019
Emily
United Kingdom
I recommend this product
Rich Cream
The Medicube Blue Erasing Cream Rich is (as the name says) a very rich cream. See my photo of the cream upside-down on my finger? Despite being thick and rich, it is also very emollient and spreads fairly well over the face without having to use a huge amount. It contains 5 types of Hyaluronic Acid to keep the skin hydrated over a long period (they claim 24 hours), microalgae to help strengthen the skin barrier, and a slightly week acidic formula to help balance skin pH to ideal condition. The temperatures are just starting to get cold in upstate New York, so I am looking at my heavier creams for the season. I generally prefer a product with SPF for the day, but this one seems to layer well and I have been experimenting with SPF creams over it. This Rich cream is also hydrating and rich enough to use as a night cream. Medicube advertises its product as using EWG green grade ingredients, which means they cannot contain any ingredients with health, ecotoxicity and/or contamination concerns. It's safe for sensitive skin as it has been clinically tested to be hypoallergenic. The Medicube brand has different skin care lines intended for different skin concerns. This is part of the Blue Line, which appears to be aimed at skin hydration. In addition to the Rich cream, there is also a regular Blue Erasing Cream which is not as thick and a set of 5 Hydra Ringer masks. I'm a fan of the Medicube website, which provides photos of real users and photos of their skin care journeys using the brand. I look forward to continuing to use this through the winter and see if it helps keep me moisturized despite the cold dry air.
11/25/2019
Skully G.
United Kingdom
I recommend this product
Better as a night cream
I'm honestly not quite sure why it's called "blue" since the cream is purely white and none of the ingredients are blue in name? Idk. The scent is fresh, almost floral. Actually, it's probably the citrus that I'm smelling. The cream is thick and slightly oily feeling. It's much better to use at night when it can properly soak in. Also when I used it during the day, I believe it caused my makeup to separate and not apply well. Plus it has no sunscreen! It's odd that they describe the product in its packaging as "mild intensive", but tbh it's a perfect description It kept my skin very hydrated but not overly so. It's a classic cream, heavier than a moisturizer but lighter than an oil. I didn't have any issues with this cream, but honestly I never noticed any major improvement either. Maybe because I'm still working through My Worst Breakout Ever™, but this just didn't deliver any sort of glamorous results. It was okay. I've been wanting to try a product with Squalane so I'm glad I got to try this!
11/25/2019
Byeol
United Kingdom
I recommend this product
A little goes a long way
MEDICUBE Blue Erasing Cream Rich is designed to give the skin a glowing look and softer feel. This product also helps to restore skin's natural protective barrier. I'm now using this cream as a night cream and it leaves my face well-hydrated and smooth. A little goes a long way, It is not greasy and sinks into the skin quickly. I love how this product makes my face feel and look. MEDICUBE Blue Erasing Cream Rich is smooth and moisturizes well.This moisturizing cream didn't irritate my skin and I have not broken out at all.
11/25/2019
Lisa M.
United Kingdom
I recommend this product
WONDERFUL cream!
This is a WONDERFUL Medicube product. Blue Erasing Cream Rich is perfect for VERY dry skin and skin that needs long lasting moisturizing effects. Containing five types of Hyaluronic acid and Microalgae for deep intense moisturizing. It is a GREAT skin barrier and protects the skin as well as providing healing effects. There is NO heavy scent or greasy feel at all.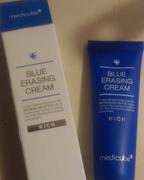 I've known Medicube since my friend recommend it to me. I could see the effect of this brand's products just by seeing my friend's skin. so I tried this, it's really good for me as well
heavier than the normal blue one but lighter than the red line one. I think it's a kinda dermocosmetic product since it's really effective to treat my acne.
I had severe troubles with my skin. I had blemishses and pimples on my face. However, this stuff cleraly erased my blemishes and there are only few pimples. I love this stuff !!
I bought it since I wanted to moisturize my skin more deeply cause I have extremely dry skin. And this stuff is just right for my skin!
Nice feeling and hydrate. Love it
Not bad! Might buy another for my mom and sis!
been using for a week now, it's great.