What it is
Hydrate and soothe dry and sensitive skin.
Low pH, skin soothing moisture cream that is made with fourfold hyaluronic acid to hydrate internal and external skin. Created with safe EWG green grade ingredients, this cream is suitable for all skin types, including sensitive skin.

What is special
Formulated with high performance hyaluronic acid composed of high, mid, low molecules and hydroxypropyltrimonium hyaluronate to moisturize internal and external skin with lasting hydration. High performance hyaluronic acid adheres moisture to skin for lasting hydration. External hydration hyaluronic acid creates skin moisture layer to provide hydration and keep moisture from evaporating, internal hydration hyaluronic acid is absorbed into internal skin to ensure lasting hydration, whereas moisturizing hyaluronic acid adheres moisturizing particles to minimize stickiness and help maintain hydration.

Who needs it:
For people with dry and flaky skin seeking moisturization and hydration from the inside out
For people who wants to strengthen their skin barrier
Weight : 50g

Main Ingredient
Hyaluronic acid
Hydrates skin
Centella asiatica
Soothes skin
Panthenol
For healthier looking skin
Key Ingredients
Hyaluronic acid
Hydrates skin
Centella asiatica
Soothes skin
Panthenol
For healthier looking skin
Benefits
How to use
1. After cleansing, squeeze adequate amount on face
2. Apply evenly across the face
3. Gently tap to enhance absorption
4. Apply excess cream on neck area

Key Ingredients
Hyaluronic acid
Hydrates skin
Centella asiatica
Soothes skin
Panthenol
For healthier looking skin
Full Ingredient
How to use
1. After cleansing, squeeze adequate amount on face
2. Apply evenly across the face
3. Gently tap to enhance absorption
4. Apply excess cream on neck area

WATER, GLYCERIN, ETHYLHEXYL PALMITATE, CAPRYLIC/CAPRIC TRIGLYCERIDE, 1,2-HEXANEDIOL, NIACINAMIDE, HYDROXYETHYL ACRYLATE/SODIUM ACRYLOYLDIMETHYL TAURATE COPOLYMER, POLYGLYCERYL-10 STEARATE, ALGAE EXTRACT, ECLIPTA PROSTRATA LEAF EXTRACT, SACCHAROMYCES FERMENT FILTRATE, PENTAERYTHRITYL DISTEARATE, CITRUS AURANTIUM BERGAMIA (BERGAMOT) FRUIT OIL, ETHYLHEXYLGLYCERIN, CENTELLA ASIATICA EXTRACT, FICUS CARICA (FIG) FRUIT EXTRACT, UNDARIA PINNATIFIDA EXTRACT, CARBOMER, FRUCTOOLIGOSACCHARIDES, TROMETAMINE, HYDROGENATED LECITHIN, DISODIUM EDTA, BETA-GLUCAN, SORBITAN STEARATE, SODIUM STEAROYL GLUTAMATE, BUTYLENE GLYCOL, HYDROLYZED HYALURONIC ACID, RAFFINOSE, FOLIC ACID, CERAMIDE NP, HYALURONAN SODIUM, CHOLESTEROL, HYDROXYPROPYLTRIMONIUM HYALURONATE, PANTHENOL, PALMITOYL PENTAPEPTIDE-4
Customer Reviews
Write a Review
Ask a Question
11/08/2020
Jaehee J.
United States
I recommend this product
My favorite moisturizer~
Super lightweight but it's super hydrating! You can wear it under makeup without worrying about your makeup getting flaky or oily. It's such a versatile moisturizer for every skin type and definitely helps you get a healthier and more hydrated skin!
05/14/2020
TriQuang N.
United States
I recommend this product
My Blue Erasing Cream Experience
I was able to get my hands on the Blue Erasing Cream by expressing interest that I would receive the product without charge in exchange for an honest review of my experience with the cream. I 100% recommend this product for the people with dull and dry skin. My skin is a bit problematic with acne, so I only used the cream in regions where I felt like it was fit. My region of concern when using this cream was near my jaw-mouth area. I had large dry patches with dull discoloration. With one week of usage, I can point out the differences in my skin. In terms of how my skin looks, the dry patch has disappeared. Only leaving me with my normal to dry skin. And in terms of how my skin feels now: it is smooth and less irritated. This cream hydrates my skin and locks in my skin barrier with moisture! I am very impressed with my skin's fast progress in fighting this patch of dryness! And Centella Asiatica being one of the featured ingredients in this product, it is completely true that this cream helps with soothing the skin, and additionally heals skin with minor redness. For any inquiries, DM on instagram! My username is: triquang.gyalmo I will post further progress with my skin after two weeks of use! :)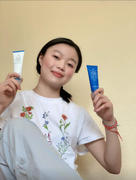 11/04/2019
Chandara
United States
I recommend this product
Smooth like a baby butt!
I recieved this blue erasing cream for FREE from Medicube. Thank you so much. I'm in love with this cream. I've been fighting with dry skin for the rest of my life. This cream smooth my face without having to put anything else on. The cream smell so nice. It prefect for this cold dry season. Keep my face moist all day. I feel like it help fade away some of my old age dark spots and give my face a whitening look. I just go natural without makeup. Just the cream itself goes a long way. Smooth like a my baby! Thanks again for this. I wish to have my daughter try their acne products. Her acne is so bad nothing works. She feel so unpretty.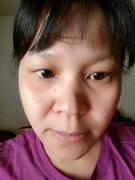 11/13/2020
Shelle
United States
10/24/2020
Miyon O.
United States
Wish all facial lotions were this nice
It helps my skin stay smooth and hydrated during the day and the product lasts all day. It has made my skin softer and it doesn't leave me feeling super oily or greasy. Especially after my morning routine and instead of the creamer I put this on? I feel like I have a nice barrier shield on my face. I'm very happy with my purchase.
10/11/2020
Luk C.
United States
10/10/2020
CATHERINE C.
United States
Light and Hydrating
Medicube products come in quality packaging! The Blue Erasing Cream is very light and I usually alternate with the pore cream. I love using this cream as this is light and moisturizing to my face. My face feels so smooth thereafter. I love this feeling! Thank you Medicube!
09/17/2020
LENA G.
United States
Lovely product
Very emollient, hydrating bit not super thick. My skin is always dewy when I wake up and when I don't wear it during the day I notice my skin is more prone to breakouts. As a side note, the scent is very pleasant as well. On my second bottle.
07/15/2020
Heidi P.
United States
Medicube Review
Love it so far. Been using the cleanser and now I have the cream. You use just a tiny bit as it does spread out nicely on your face with no stickiness.
07/14/2020
Joanne T.
United States
04/23/2020
Jessica L.
United States
Gentle cream which really works
Been using this cream for 3 days, since I have sensitive skin, especially during weather changes time. Love this gentle cream which calm my skin irritation and I love this light cream a lot. Think I'll get the rich version as my night cream or during the times when my skin is feeling sensitive.
12/20/2019
Mui H.
United States
Shipping and handling
So far so good. No allergies developed when applied to my skin. It is shinny as well as the glass glow solution.
11/25/2019
Huyen
United Kingdom
11/25/2019
Wendy D.
United Kingdom
Blue Erasing Cream
The Deep Erasing Cream is more suitable for dry and mature skin whereas this Blue Erasing Cream is more suitable for oily, normal, combination, and even sensitive skins. Also Blue Erasing Cream, in my opinion, is more suitable for day time skincare whereas the Deep Erasing Cream is more suitable for nighttime skincare. The main feature of this cream focuses on internal and external hydration and soothing. This cream main ingredient is a fourfold Hylauronic Acid which is more high performant with smaller molecules for better internal skin ***********, also it has mid/high molecules for external hydration lock. Another important ingredient is Centella Asiatica for skin soothing benefits. This cream is low in pH level and uses only safe EWG green grade ingredients. This cream has no noticeable fragrance and had a white creamy texture. I love how my skin feel so smooth after applying this cream in the morning, also it is not super rich which means it's not oily at all, it almost has a mat finish after completely absorbed into the skin. I love using this under makeup, it locks in moisture all day long and it does not make my tzone oily even after 8-hour day. .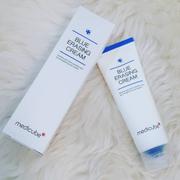 11/25/2019
Christina
United Kingdom

Absorbs quickly

THE GOOD: ✅⁣ -It has wonderful fresh natural lemon scent.⁣ -Wasn't greasy and absorbed quite quickly. ⁣ -3rd Ingredient is niacinamide.⁣ -Also contains ferments in top 10⁣ ⁣ THE BAD:(For me)⁣ -Was too light of a cream for the colder weather.⁣ -21% prior to application. 31% immediately after applying. 27% 30minutes later.⁣ -Hyaluronic acid is way down towards the end of the Inci list

Liquid error: Could not find asset snippets/voyager-product-metafields.liquid