[DUO] Red Toner + Cream
-22%
Ingredients
Red Toner
Water, Methyl Gluceth-20, Ethanol, Niacinamide, Butylene Glycol, Beta-Glucan, Glycerin, Betaine, Zanthoxylum Piperitum Fruit Extract, Acrylates/C10-30 Alkyl Acrylate Crosspolymer, Triethanolamine, Pulsatilla Koreana Extract, Lichen Extract, Allantoin, Colloidal Sulfur, Chlorphenesin, Willow Bark Extract, Adenosine, Clary Extract, Hyacinth Flower Extract, Camellia Japonica Leaf Extract, Disodium EDTA, Ginger Extract, Phellodendron Amurense Bark Extract, Magnolia Obovate Bark Extract, Grapefruit Seed Extract, Salicylic Acid, Ovalicin, Sophora Flavescent Root Extract, Grapefruit Extract, Lavender Water, Borago Officials Extract, Centaurea Cyanus Flower Extract, Chamomilla Recutita Flower/Leaf Extract, Hyacinthus Orientalis Extract, Tea Tree Leaf Oil
-
Red Cream
Water, Glycerin, Stearyl Alcohol, Niacinamide, Beeswax, Ceresin, Hydrogenated Polyisobutene, PEG-100 Stearate, Glyceryl Stearate, Dimethicone, Cetyl Ethylhexanoate, Emu Oil, Colloidal Sulfur, Polysorbate60, Beta-Glucan, Cetearyl Alcohol, Sorbitan Stearate, Tea Tree Leaf Oil, Shea Butter, Triethanolamine, Carbomer, Tocopheryl Acetate, Zanthoxylum Piperitum Fruit Extracat, Butylene Glycol, Cetearyl Glucoside, Pulsatilla Koreana Extract, Lichen Extract, Lavender Water, Betaine, Willow Bark Extract, Disodium EDTA, BHT, Salicylic Acid, Clary Extract, Adenosine, Hyacinth Flower Extract, Camellia Japonica Leaf Extract, Lavender Oil, Ginger Root Extract, Phellodendron Amurense Bark Extract, Magnolia Obovata Bark Extract, Grapefruit Extract, Borago Officinalis Extract, Centaurea Cyanus Flower Extract, Chamomilla Recutita Flower/Leaf Extract, Hyacinthus Orientalis Extract, Sodium Hyaluronate, Phenoxyethanol, Ovalicin, Sophora Angustifolia Root Extract, Grapefruit Extract, Ethylhexylglycerin
Customer Reviews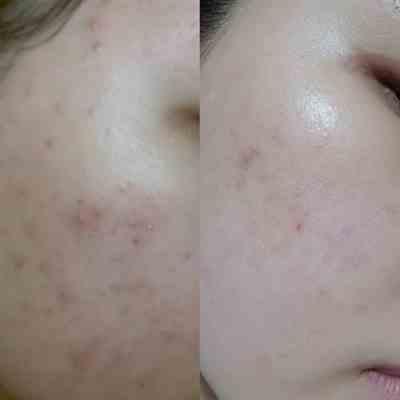 06/27/2019
This set helped get rid of little bumps and pimples. I was so glad to see that white stuff in my pimple gone. Total skin saver for me! I'm set on this duo.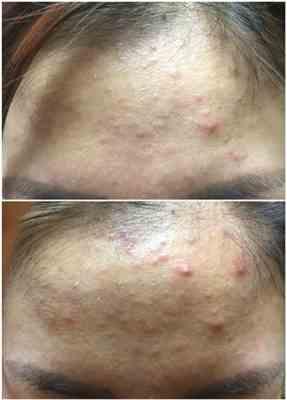 06/27/2019
Honestly, I don't like to use acne skincare that strips your skin dry. This set works for me. The toner is light and refreshing, but the cream is moisturizing. Over all it doesn't trigger more acne, and feels very comfortable. Look at the progress I made!
08/14/2019
Love this set. Definitely have to use together for better, faster results.
08/13/2019
I used this on areas with zits for a 2-3 days and by then the zit has subsided itself without me squeezing it. Awesome!
07/03/2019
I've tried various brands, but this one seems the best for my skin. It is hydrating, but not at all oily. It just gives a very clean and dewy look and absorbs into the skin immediately. During the day time, I have no issues with my skin becoming oily. It feels the same as when I first apply in the morning.
07/03/2019
I love this skin care set! The price was relatively cheap compared to other skin sets. The toner, and cream all moisturize my face perfectly! I have been applying it twice a day - day and night, and I've already seen some good results (acne scars and blemishes fading) over the last 3-4 days!
07/03/2019
This is my miracle product! I've suffered for years with cystic acne and both oily and extremely dry skin, so after a particularly bad break out and irritated skin, one of my Korean friends recommended me this. This wasn't too expensive compared to other things I've tried so I gave it a shot. I noticed a lot of wonderful things about this product: First, it's soothing. I think I've tried just about every product under the sun and I've never gotten the red, tight feeling skin I'd get from Proactiv or Clinique! Second, the hydration left my skin so soft I couldn't believe it! I felt like I had my pre-pubescent skin back. Third, it's light weight. Can get a little sticky sometimes but not overwhelming. And finally, it cleared away lots of dark marks and old acne scars. My skin looks much more even and healthy. I can't believe that I actually get compliments on my skin now, after years of horrific acne. I know that every product reacts differently with everyone's chemistries, but I recommended this to all my friends (the one who has tried it also loves it!). I used it everyday and twice daily pretty often. Seriously a miracle for me!
06/27/2019
Bought this for my sister too! Great experience with this product. Sister is super happy about it too:)